We've all seen that funny, yet somewhat terrifying meme that says college life is like riding a bike, but the bike's on fire and you're in hell. To avoid that, we're here to answer an all-burning (pun intended) question 'what school supplies do I need for college?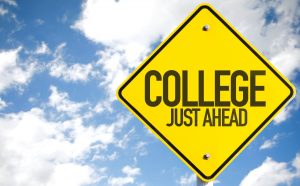 Knowing this will give you a great start because you'll be prepared with everything, so you won't have to frantically look for new supplies instead of organizing your dorm room or paying attention in classes. It also means you'd have built up a significant level of confidence, so your first college experience will be better.
But what exactly do you need? We're here with a comprehensive list of supplies which we'll discuss below, and explain why you need each. Caught your eye yet? Then read along.
Adhesive Page Markers
Don't underestimate the power of marking your textbooks and notes. You will study so much easier if you have a color coding system in place, so you'll find different topics or titles more efficiently.
You can also use bookmarks, but adhesive page markers stand out better. You can also make some small notes on them, which you couldn't do on your average bookmark.
Backpack
You'll have a lot of textbooks, papers, notebooks and possibly even a laptop to carry every day from your campus to the main building. That's apart from a bottle of water and a snack, so you'll need a backpack that's fairly resistant.
That's why it would be wiser to invest a bit more in a sturdier bag that's bound to hold you for at least a couple of years. We recommend something with a lot of pockets so you can have everything at hand and to organize your things easier.
Paper vs. Notebooks
This is a pretty common choice before college, and the answer is simple: why not both? It's better to have your notes on paper if you're working in a group for a certain project because it's easier to swap notes with your partners that way. But it's better to have a notebook if you're the only one reading those notes since it's great to have everything in one place, without the fear of misplacing notes from one class.
If you're going with papers, you might also need a few folders and binders to keep them well organized. So we'd advise you to pick different colors for these two, you can have one for each class you're taking as well as for various projects and assignments.
Calculator
This one is a no-brainer if you're majoring in Math, Physics or Chemistry, but you might still need a calculator even if you're not. That's because you will still need at least one Science or Math course to complete your studies.
Before getting one, though, we'd advise you to consult the rules of your major department. For instance, you might want a graphing calculator if you're a Math major or a basic, scientific one if you're not.
Citation Manuals
Writing a college paper is quite a different experience than writing one for high-school. You'll find the reference rules are more strict here since your style has to be more formal and you have to avoid plagiarism in all its forms.
That's why it's a good idea to have your citation manuals already prepared. The MLA guidelines are the most used by Humanities students, while Science majors will mostly use APA. However, we think it's a good idea to have both, maybe some professors or TAs prefer a certain style.
USB Stick
Even if you're getting papers and notebooks, you'll still need a USB stick or a flash drive to help you store your files. You will probably also use your Google Drive or your Dropbox, but it's better to have a backup just in case.
Highlighters vs. Post-its
Some people hate using post-its for emphasizing certain ideas from their notes because it takes longer than simply underlining the most important facts with a highlighter. However, with post-its, you can make notes about your notes, and they're also extremely useful for reading books you can't scribble on.
So again, this could also be a false dilemma since both are extremely useful for the average student. It's better to have more colors for both the highlighters and the post-its, it will help you underline and remember your notes easier.
You can even get a Post-it Easel Pad if you're studying a complicated subject or if you're preparing for a group project. This is a huge pad of post-its which you can stick and arrange everywhere, on things like a bulletin board or your bedroom floor. You can use these for brainstorming or even making sense out of an entangled history of a royal family.
Hole Punch
Even if you're using notebooks instead of papers, you might still need a hole punch at hand. Your professors will all hand out things like worksheets and curriculums, so you need to keep them all in folders and binders.
That's why a hole punch can definitely benefit you. You can organize these papers better for each course so you can find them fast and work more efficiently instead of constantly looking for them in drawers or on your cluttered desk.
Index Cards
Once you start studying for your mid-terms or other exams, you need to enhance your chances of remembering everything. So once you've underlined the most important notes, it's time to make a new selection and write down the most important ideas on index cards.
That way, you'll use both your semantic and narrative memory so you can integrate this knowledge better. Index cards thus help you remember stuff faster, and you can also use them as flashcards when you're studying.
Blue Books and Student Planners
If you're going to have various essay exams, a blue book is a real lifesaver. Besides, exams have a way of creeping up on you without you even realizing you have a new one coming. Time management is one of your top priorities now that you're a student, and it's better to have everything organized so nothing takes you by surprise.
Each university bookstore has these blue books available, but you might want a student planner too. This will help you keep track of everything, not just exam dates, but also project meetings or other activities.
Laptop and Printer
It might not just be a convenience for you to have your own laptop, your college might require you to have one. But if it doesn't, you have to admit that it's more comfortable than using the ones in the computer lab.
You can use it for studying, taking notes, research, but also for watching Netflix on your free nights. Besides, some of the newer models are quite light, so they're easy to carry even across campus on busy days if you don't have a Notebook Computer.
A printer and a scanner are great additions too. You can print out info faster, without losing precious time to go to a store. You and your roommates can even pull your funds together on this one, but be sure to get a printer with an incorporated scanner if you do. That way, you can use it for more purposes, like making study guides.
Pens and Pencils
Even if you have a laptop for taking notes and studying, you still need enough pens and pencils. You'll have to write forms, sign your name on various sheets or even write down questions for your professors and TAs during their courses.
Again, it's better to have various colors, but at least blue and red for the pencils. If you're taking tests on scanner sheets, it's also mandatory to have a No. 2 pencil.
Smartpen by Livescribe
This is a luxury item, but it's great for Math majors, as well as other students. Did it ever happen that something would make perfect sense in class then find yourself completely in the dark when you're home studying your notes?
It happens to the best of us, but with a Smartpen, you can record the lecture when you're writing down your notes. That way, if something doesn't make sense or you don't understand your writing, you can put the pen on a certain word or diagram and play what the professor was saying when you took those notes.
Scissors and Tape
Writing a group paper takes a lot of work, and you need to be able to visualize everything. Even if you're not working on an Arts project, you still might need to make a presentation board so you can get your point across in an oral exam.
Stapler
It's always great to have a stapler with you when you're in school, in case you have a class assignment. That way, your TA or professor doesn't lose your papers and you get graded correctly.
Besides, there's a chance that your TA or classmates might need one, so you can lend them yours. That way, you'll be noticed as a helpful student and make friends faster. It's also a great icebreaker for those times when you need such a thing.
Bulletin Board
You can use one for different purposes, like livening up your dorm room with photos and keepsakes from home or other such things from your campus. Or, you can use it for group projects, individual assignments or for scheduling all your curricular and extra-curricular activities. Just don't forget to get enough pins too.
Final Thoughts
With that in mind, it's best to also go on a college tour before the fall. That way, you can find out exactly what other supplies you need, by talking with other students who are taking similar courses as you do. And remember that each college has its own rules, but each professor might have their own preferences.
So now, tell us a bit more about you. Where are you going? What major are you taking? Was this article useful? What did we miss? The comment section awaits below!