Do you love a challenge, but do you also kind of want to be prepared for it so you can enjoy it more? Does living with others give you the heebie-jeebies both in a good and a bad way? Then you definitely need to know what to bring to a college dorm, so you can make your stay better. That way, you'll bring your whole college experience to a new level too.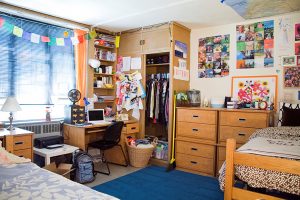 But if you do your research, you'll find that there are plenty of lists out there on the World Wide Web, each claiming to be more useful than the next. Scouring every nook and cranny of the Internet will bring you items upon items that are said to be essential, like an under-the-bed storage tray. Do you really need that, though?
You've come to the right place if you're not after just your run-of-the-mill list. We'll give you that too, just in case, but we're also prepared with some awesome tips and tricks for things you actually want in dire, desperate or weird situations. Caught your eye yet? Then read along.
The Necessities
There are lots of things you might find useful here while others may not 100% fit your situation. For instance, you don't need a fan if you're going to live in a freezing area, so simply cut it out of the final list. Our advice is to print the stuff that's left, and you can tick the boxes off as you go.
Room
Bedside lamp. You'll need this to read all your notes and papers before going to bed. And what better place to do that than your very own bed?
Clock radio. Much more inspiring than the alarm on your phone. And we all know it's really important how you wake up in the morning to set the mood for the whole day.
Mini-trash can. You're going to be throwing off a lot of things, including candy wrappers or paper.
Desk lamp. Better for studying than any overhead light bulb. You can really use something that ups your concentration and feels really professional at the same time.
Bulletin board. Great for setting up photos of your family and friends or to pin different other things. Speaking of pins, don't forget to bring enough of those too.
Wall calendar. This is a dream for planning your activities, just make sure you get a dry-erase one in case you want to do some corrections.
Drying rack. You'll be doing tons of laundry there unless you're taking your clothes back home.
Picture hangers. This is in case you'd rather use that bulletin board for something else instead of photos.
Sheets and pillowcases. Grab two sets, but make sure the sheets fit your bed first, so check with the dorm first.
You should have three towels for showering, and three for wiping your face and hands.
One should do the trick, but some students prefer a travel pillow too. Just make sure you get comfortable, ergonomic pillows so you can sleep well and avoid neck pains.
Mattress pad. This is amazing to have, but check with the dorm first so you get the right size.
Two blankets are great, don't bring too many. One should be warmer, and the other one lighter.
It's better to have this than to put the sheet right on top of the mattress.
Laundry Stuff
Laundry bag. You need to store that dirty laundry somewhere.
Washing powder. What will you wash your stuff with?
Desk Supplies
USB flash drive. These are essential for studying and passing on notes between you and the TAs/ professors or in a study group.
Stapler with staples. Amazing for any class or individual assignments.
Tons of paper. You're going to be writing down a lot of stuff.
Pencil holder. You know how people always tend to lose their pencils? Well, they don't have a holder.
Pens and pencils. See above, you're going to be doing lots of writing.
You need to write down your important ideas on something more long-lasting than a sheet of paper.
Post-its. These help you leave messages to your roommates, plan activities, or study better.
It's better to be organized, so get enough folders for the job. At least three to five for each class you're taking, so you can use them for projects too.
In the spirit of a minute organization, labels are paramount for the job. Just make sure you get different sizes.
Index cards. Yes, you're going to be using these for studying.
Paper clips. For those notes that you're constantly reading, paper clips are better than
These are terrific for studying but bring various colors.
Desk trays. You'll want to organize your desk, and it's best not to rely on drawers. So get at least four such stackable trays for the things that are constantly cluttering your desk.
Electronics
You need it for studying and entertainment.
Ethernet cord. Great for when there's no Internet. Grab one that's 14 feet and another of about 25 feet.
Getting a universal charger is amazing, it saves a lot of space.
These are really useful for listening to music when your roommates are sleeping or when there's a loud party and you need some quiet time.
This didn't need to be here, right? It would probably be the single thing 99.99% people would take if they could only take one.
Shared Stuff
You should talk things over with your roommates before getting any of these things since they're shared expenses and common household items. You should also see if some of these are already provided for, like a room refrigerator. Besides, owning a microwave might not be allowed altogether.
Great entertainment all of you, and especially useful for movie night.
Leftovers are the most important meal of the day when you're in college, but you still need something warm in your belly.
Where else are you going to store all those energy drinks?
It makes the room pretty.
First-aid Kit
Antacid. Amazing for those days and nights when you're stress eating or when you haven't eaten enough.
Pain relievers. Check with your doctor before taking any pain relievers, you're going to have a lot of headaches.
Vitamins. Your diet is going to be quite sketchy, so you should compensate with the proper medicine.
Adhesive bandages, antibiotic ointment.  Accidents happen all the time, so make sure your First Aid Kit has plenty of those.
Cough drops. You might get a cold when you're least expecting to, or you might start coughing because of a dusty/ moldy dorm room before you clean it.
Toiletries
Shower shoes. Have your flip-flops ready because, otherwise, you're going to get your regular shoes all wet.
Shampoo and conditioner.  You're going to be washing your head when you're living in a dorm too. We know, shocker.
Hairstyling products. Your hair tells all about who you are, and it gives you some extra confidence to look good.
Soap. It's best to take liquid soap so you can share with your roommates too.
Toothpaste and toothbrush. You should still brush your teeth in college, you haven't outgrown this stage yet.
Dental floss. Great for a minty breath and a good start each day.
Comb or hairbrush. You want to look your best, not like someone who's just escaped a shipwreck.
Tweezers. Mainly for your eyebrows, but also for mending stuff or for removing splinters.
Nail clippers. We know college can be a nail-chewing experience, but don't actually do it. It's just a saying.
Hair dryer. If it's freezing outside, don't go out with a wet hair.
Razor and shaving cream. You know what to do with those.
Lotion. You're in college, but you're still allowed to pamper yourself a little. Besides, it's going to relax you a lot.
Cotton swabs. Dry your ears or use them for different projects.
Deodorant. You still want to smell good, right?
Clothing
We'll still explain the things below, though presumably, you know how to dress if you're in college. Just kidding, but some of these are really useful. Take the weather into account too, as well as the distance to home.
Underwear and socks. As many as you can get. You can never have too many.
Pants and skirts. Three to five pairs should do the trick.
Shirts and blouses. One for each day of the week, but bring long and short sleeves too.
Depending on the weather, you'll do fine with two to five sweaters.
When you're sharing your living space with other people, you can't sleep in your underwear.
A pair will be just fine.
Bring a light one, and one that's warmer. Or you can get just one jacket with a removable inner lining to save some space. Make sure these jackets are windproof and rainproof too.
Hat, scarf, and Useful for inclement weather, but also to make you look good. Bring one or two of each.
Boots. One pair is great, don't bring too many.
Walking shoes. Get a couple of pairs of these, you're going to be doing a lot of walking around the campus.
Household Items
Paper towels. You're going to need lots of these, there's going to be more spillage than you can ever imagine.
Trash bags. You need these for your kitchen as well as for any new dorm parties you're going to organize.
All-purpose cleaner. You need to keep things clean, but you don't want to bring tons of different cleaning bottles along.
Plastic storage bags. These are great for the safe-keeping of stuff you don't need right away, like some of your clothes.
Kitchen Items
Food-storage containers. You need about five casseroles to keep your food in the fridge. If these can be placed in the microwave, you've won the jackpot.
Dish soap. Still going to do the dishes sometime, unfortunately.
Coffee mug. You're going to be drinking a whole lot of coffee. You know that, right?
Water bottles. Get two different ones, so one can always stay in your school bag.
Glasses. You'll need three or four of them, but make sure they're non-breakable.
Dishes. Get dishes that are great for your dorm room, meaning don't break and they can be placed in the microwave. It's best to get dinner plates, small plates, and bowls, two of each.
Eating utensils. Get tablespoons, teaspoons, forks and knives, two of each.
Miscellaneous
It's a safe bet to assume that it's going to rain at some point.
You know you're going to school, right?
Sports equipment. Chances are there's going to be a gym in or near your dorm building, so take advantage of it.
"The List" List
These are the things that fit into the category of stuff you don't really need until you desperately need them and no one seems to know where to get them. Or one of your roommates might need them. Either way, these are the little lifesavers below:
Antidiarrheal medicine.  Goes without saying, but this one is something you're really going to thank us for later.
Safety pins. Accidents happen, and you can't also mend a ripped backpack when you're on the go.
Sewing kit. You never know when you rip something, like a button or a piece of clothing.
Mini toolkit. Stuff can break as easily in your dorm room as at home, so it doesn't hurt to be a little handy with the tools. Or you can help some good-looking next-door neighbor.
Lots of change. You might need that for the washer, dryer or for other machines.
Clothes hangers. You'll need about 30 of these, maybe even more. But hanging your clothes is great because it takes less space.
Stain remover. You're going to have lots of stains to deal with thanks to the oh, so many staining opportunities that living in a dorm brings.
Lint brush. This can definitely make the difference between looking smart and looking like you don't have anything nice to wear.
Extra pencils and pens. You or your roommates are bound to end up with no pencils or pens when you need them most. Or someone from your group project might be in dire need of one.
Extra batteries. Imagine ending up with no power. We've said enough.
Spare paper clips. We know you already bought paper clips, but you need spare ones too. Do you know how fast you run out of them? Besides, one of the other people from your dorm might need some.
Stamp and envelopes. Yeah, yeah, we know, everyone uses e-mail in the 21st But some official documents require using stamps and envelopes, so be ready with those.
Tape and scissors. Lots of group or individual projects require these things. Or you can take up an Arts and Crafts class in your spare time.
Portable, waterproof speakers. You're really going to thank us for these. Speakers are great when it comes to parties, but waterproof speakers are invaluable.
Surge protector. Power surges are frequent in dorms, and electronics are expensive. See where we're going with this?
Business clothes and shoes. If you want to go to a job interview or a fancy dinner date, it's worth it to get dressed up fancier than you normally do.
Maybe you and your new friends choose to go to the local swimming pool or maybe you have a pool in the campus.
Can opener. We're not saying that you're going to be eating a lot of cans. We're just implying it.
Who says there are light bulbs in your dorm room? Or even if they are, they might go bad right when you need light the most.
Wet wipes. From wiping furniture to wiping your hands, to wiping your shirt when someone accidentally spills their drink on you, boy, do these have a ton of uses.
Somehow, everyone keeps forgetting about bringing enough tissues, have you noticed that?
Pizza cutter. For when you're sick of cans, a pizza tastes like a breath of fresh air. Still, you need nice, even slices. Besides, a pizza cutter is amazing to have at parties.
Sink stopper. Great for when you're doing the dishes. And the sink is always magically filled with dishes, even if you always eat take-out.
Bulk snacks. Much less expensive and great for some fast calories, bulk snacks are a secret weapon for every freshman.
Cleaning rags. You'll want to make your dorm room livable, right? And if cleaning is one of the first things you're going to do there, you're going to need the stuff to do that with.
Portable door lock. You never know when you need your privacy. So a portable door lock is easy to install, secure and doesn't leave marks on the wall.
Final Thoughts
Now that we're here, you can breathe easy. We've taken you through a series of stuff you need or might need to make your dorm stay as dreamy as possible. Or, at the very least, masterfully planned.
That said, we're curious what you found the most useful from our list. Or the least useful, for that matter. What did you find the most surprising? What did we miss? Leave us a comment below!